I thought that things would be slowing down around here, but everything just keeps getting crazier and crazier. The Krallice 2LPs have been flying out the door, which is great to see. Thanks to all who have ordered! If you run a label and are interested in any trades, get in touch!
I suddenly have a ton of screen printing stuff to do for various Gilead releases, and I'm working on some stuff for the Thou/Moloch split that Perpetual Motion Machine and Feast of Tentacles are releasing. Great labels, great split. I'll have a big batch of copies as soon as that's done so keep your eyes out for that.
There's also quite a few Gilead titles that have begun falling out of print, and some other goodies I found lying around the storage area. AB Life screen printed edition LPs are pretty close to gone, so if you wanted one do not wait any longer. You'll probably miss out.
I also added a good chunk of new distro titles, some very exciting stuff, in addition to a few restock items that sold quickly.
KRALLICE "DIMENSIONAL BLEEDTHROUGH" 2LP PHOTOS!
You may have seen some of these photos on Invisible Oranges over the past week. Here they are now, with a couple additional ones. Enjoy! And if you haven't picked this up yet then luckily you can rectify the error of your ways -
Gilead Media online store
. It will also be available in stores mid-June.
TONS OF NEW DISTRO STUFF/RESTOCKS
Just added a big ol' batch of new and restocked goodies to the online store. This includes some Minsk 2LPs I found with busted seams that I'm selling off cheap, and some Thou "Retaliation" 12"s in a distro order that never got paid for. Check em out below and
pick up some records
. Listen links are also available in the Gilead online store.
Black Freighter "Graves and Monuments" LP - $13.00
Released by Vendetta Records. Blurb from the label: "Black freighter's sound is dirty ; downtuned guitars , lots of feedback ; brutal and aggressive vocals ; you can hear influences from eye hate god to godflesh to coalesce and his hero is gone ; a perfect mix of sludge / industrial / hardcore" Listen: Myspace.
Chicago Thrash Ensemble Untitled 12" One-sided EP w/B-side Screen print - $7.00
Released by Plastic Airlines. Fantastic, fast, pissed grinding brutality from Chicago. Excellent screen print on the blank b-side of the LP + Screen printed heavy duty jackets. So good. Blurb from the label: 7 brand new ragers from the Chicago Thrash Ensemble. 6 originals and a cover of "Motor Man" by The Fighters. 300 copes.
East of the Wall/Year of No Light/Rosetta Split 2LP - $20.00
Released on vinyl by Vega Vinyl. Three atmospheric and experimental heavy bands team up for an outrageous split. Packaging looks great on this! Listen: East of the Wall Myspace, Rosetta Myspace, Year of no Light Myspace.
Fell Voices "Fell Voices" LP - $10.00
Quite the hidden gem here from these California bay-area black metallers. The label (Human Resources) got in touch with me for a trade and I was pleasantly surprised by what I heard. These guys will be doing some CA tour dates with Thou in June, so don't miss out. Jam some songs and pick this guy up! According to the label this record goes "far beyond black metal", I would tend to agree. 180 gram
Giant Squid "The Ichthyologist" Gatefold 2LP - $22.00
Released on vinyl by Vega Vinyl. Blurb from the CD label, The End records: From one's lowest moments, the greatest adventures can begin, and true freedom can be discovered. Such is the journey that The Ichthyologist, sophomore release from Giant Squid, takes listeners on from its first pounding, other worldly crescendo to the final sweet release at its conclusion. Based on a yet to be released graphic novel of the same name, written by Giant Squid founding member, Aaron Gregory, The Ichthyologist is a concept album of grand scale. Through the thoughts of the album's protagonists, a man stripped of his humanity and left with nothing but the sea in front of him, comes a story about adapting in inhuman ways to survive the shock of human loss and total emotional tragedy, becoming something else entirely in the process.
Highgate "Shrines to the Warhead" LP - $13.00
Released by Vendetta records. Limited to 300 copies, hand numbered and all on black vinyl. Blurb from the label: Highgate, a Kentucky trio play nasty sludge in the vein of Burning Witch, Toadliquor, Grief, Noothgrush, Winter, Wreck of the Hesperus and Corrupted. Seriously, if you've been having recent talks on the suicide hotline and consider yourself a personal danger whenever you are around sharp objects…I highly recommend not listening to this. This record is up there in the top five of the all time most disgusting, horrifying doom/sludge releases ever…well, released! Highgate play evil, straight from fucking hell sludge/doom that is as easily anguished and bile-filled as anything that ever came down the pike…classics like Burning Witch, Toadliquor and Winter all included.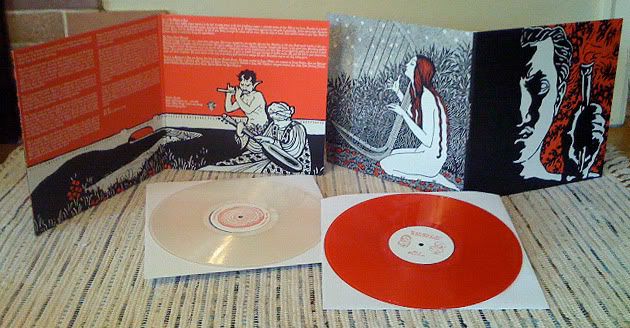 Thou "Baton Rouge, You Have Much to Answer For" Gatefold 12" - $13.00
*RED VINYL ONLY* Released by Robotic Empire. Blurb from the label: Easily one of the most exciting modern sludge/doom bands going, THOU calls Louisiana home and have channeled lifetimes of depression & decay as the inspiration for "Baton Rouge, You Have Much To Answer For." Scathing commentary laid down by hateful blackened vocals is merged with some of the most crushing riffs conceived in ages. Incredibly deep tones and bludgeoning drumming are combined with a surprising amount of melody and years of honed songcraft to create a powerfully heavy release. Two pummeling tracks over 15 minutes span the A-side, while the B-side of equal length finds an instrumental drone piece along with a spectacular NIRVANA cover that puts a completely crushing take on the "Bleach"-era tune, 'Sifting.' Comes in a gatefold jacket and on red vinyl limited to 800.
Thou/Leech "We Pass Like Night, From Land to Land" EURO EDITION Split LP - $17.00
The European edition released by Vendetta records. This version includes a single sleeve jacket with printed inner sleeve and poster. All copies on white vinyl. The jacket also has different photos for the "swamp" and "cascadia" sides of the art.
Minsk "The Ritual Fires of Abandonment" Gatefold 2LP (Bustead seam copies) - $10.00
I found a few of these in a box with some other damaged sleeve records. Everything will play fine, it's just the top and bottom seams were blown out during shipping. This record is otherwise long out of print. Black vinyl only!
Thou "The Retaliation of the Immutable Force of Nature" 12" - $9.00
"Retaliation" contains the last two tracks from the "Tyrant" CD that are not on the "Tyrant" LP released by Southern Lord. I found 5 copies in a box that I set aside 4 or 5 months ago for an export distro shipment. The customer never responded or paid so now you get a chance to snag one of these babies up! This record includes a large hand screen-printed single color poster on butcher paper, a screen printed cardstock insert with letter pressing on the reverse side, and the fantastic "Animal Liberation, Human Annihilation" 2-color patch. Everything was hand screen printed by either myself or Chris Sommer from Sacred Tapes, with letterpressing done by Bryan Funck. These are the last 5 copies I have. This may be repressed sometime in the fall after Summit is all settled up. But now before then.
THOU US TOUR // ROCKY VOTOLATO LIVING ROOM TOUR
So many bands on tour, if they're comin' around then get into it
THOU tour dates (additional info @
http://www.noladiy.org/thou
)
06.10 - Tulsa, Oklahoma
06.11 - Albuquerque, New Mexico
06.12 - Tempe, Arizona (matinee)
06.12 - San Diego, California
06.13 - Tijuana, Mexico
06.14 - Los Angeles, California (matinee)
06.14 - Los Angeles, California
06.15 - Los Angeles, California (matinee)
06.15 - Los Angeles, California
06.16 - Santa Barbara, California
06.17 - San Luis Obispo, California (matinee)   
06.17 - Santa Cruz, California
06.18 - Los Altos Hills, California (matinee)
06.18 - San Francisco, California
06.19 - Oakland, California
06.20 - Berkeley, California (matinee)
06.21 - Santa Rosa, California 
06.22 - Eureka, California 
06.23 - Salem, Oregon
06.24 - Portland, Oregon
06.24 - Portland, Oregon (matinee)
06.25 - Olympia, Washington
06.26 - Seattle, Washington
06.27 - Missoula, Montana  
06.28 - Fargo, North Dakota
06.29 - Sioux Falls, South Dakota
06.30 - Omaha, Nebraska   
07.01 - Columbia, Missouri
07.02 - New Orleans, Louisiana
07.03 - Baton Rouge, Louisiana
ROCKY VOTOLATO tour dates
Addresses for these living room dates will not be revealed unless you purchase tickets. Visit
http://www.rockyvotolato.com
for more info.
6/25 – Spokane, WA
6/28 – Bismarck, ND
6/29 – Fargo, ND
6/30 – Sioux Falls, SD
7/01 – Minneapolis, MN
7/02 – Milwaukee, WI
7/03 – Chicago, IL
7/06 – Detroit, MI
7/07 – Cleveland, OH
7/08 – Columbus, OH
7/09 – Cincinnati, OH
7/11 – Nashville, TN
7/12 – Nashville, TN
7/14 – Columbia, MO
7/16 – Kansas City, MO
7/17 – Omaha, NE
7/27 – Castro Valley, CA
7/30 – Huntington Beach, CA
7/30 – Huntington Beach, CA
7/31 – Los Angeles, CA
8/01 – San Luis Obispo, CA
8/03 – Fresno, CA
8/04 – Santa Rosa, CA
8/05 – Redding, CA
8/06 – Portland, OR
GET RAD and MOUTH OF THE ARCHITECT are playing two separate shows on the same night in Milwaukee this SUNDAY MAY 30th. The GET RAD show is with Strike Anywhere at a SMALL diy artspace, and MOUTH OF THE ARCHITECT are playing with the great Milwaukee band NORTHLESS. Check out the flyers below!
Other cool stuff that happened: Saw Deftones in Madison, so good. Starting to organize our annual Zombie Walk for Sept. Thou began recording their new 12" EP they plan to self-release.
Thanks to you all... until next time!
-Adam Bartlett
+ gileadmedia.net
+ broad-cloak.blogspot.com
+ facbook.com/gileadmedia
+ twitter.com/gileadmedia