First blog post eh? Cool.
Got in the test pressings for the Thou/Black September split 7" the other day but have not had time to sit down there and jam it out yet. In addition to this, their sudden arrival reminded me that I had not yet ordered the 7" labels... woops. Cranked that out tonight!
In other Gilead news, I met with the printer today to get some quotes on the 7" jacket and Tyrant CD repress booklet. The Oshkosh/Fox Valley area has a large printing industry, and it only makes sense for me to get those things printed locally, right? Hoping their prices are comparable to my old sources.
We're almost entirely re-working the Tyrant CD booklet, fixing typos, reformatting text etc etc. Also printing it on a thicker stock with matte finish... party time!
In other Thou news, I finished creating the locked groove samples for the Thou/Leech split. Grim stuff! Can't wait to get that record ironed out, finally. It's going to be a fun one.
In addition to all this, I'll be screen printing a number of inserts for Thou releases coming up:
Thou/Haarp split release poster insert
Thou/Leech split posters and patches
Thou/Black September split inserts
Lots of work to do all around!
This week I totally busted the shit out of my glasses somehow. I was just cleaning a lens and the cheap-ass italian frames broke. The lady at the optometrist thought taping them would be cool... thanks, lady.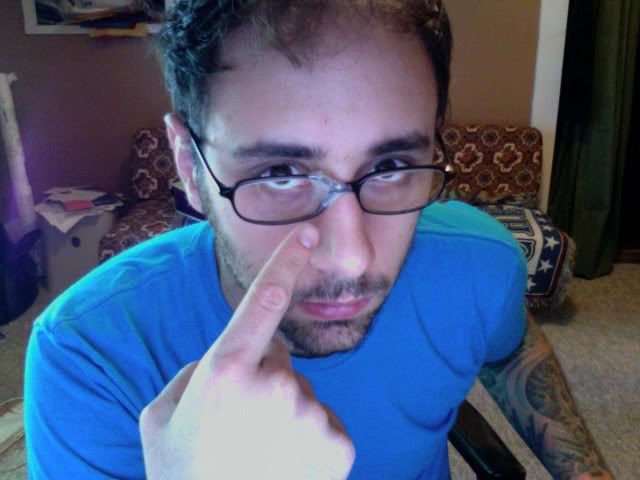 So, at the grocery store I decide to get some super glue. Well, turns out the super glue fumes are eye irritants. So now instead of having taped glasses I can't wear em at all, smooth move, me!
Appointment Aug 31 for new Rx and frames. Less 3-dimensional vision until then.